Janitorial

Please visit our web site dedicated solely to Commercial Cleaning and Janitorial Services at: www.checkpointcleaningservice.com
Don't delay call today and receive your first month of service FREE!
For over 16 years Checkpoint Cleaning Service has been keeping Bay Area businesses clean from top to bottom. With customized janitorial services including carpet, tile & grout cleaning, stripping & waxing, parking lot cleanup and much more, Checkpoint offers a full spectrum of janitorial services for large and small businesses. We service the central Florida area and for large accounts or customers with multiple locations we service all of Florida. Weather your located in Orlando, Tampa, Clearwater, Largo, Melbourne or Key West, Checkpoint's commercial cleaning services stand out in the janitorial industry with customized service, competitively priced rates and responsible management.
Checkpoint Cleaning Service is prepared to quickly, efficiently and comprehensively clean a wide range of business spaces including medical and dental labs, examination and treatment rooms, office buildings of all sizes, stadiums and special events as well as lunchroom areas, board rooms, entrance and reception areas. No detail is spared on Checkpoint's list of custodial services. From polishing water fountains and mopping floors to wiping glass partitions and emptying trash containers, Checkpoint Cleaning offers complete janitorial service for businesses throughout the Tampa Bay and Central Florida area.
Specialized janitorial cleaning services offered by Checkpoint include exterior window washing, cleaning ceiling vents, light fixtures and mini-blinds, policing grounds and perimeter areas of buildings, drapery cleaning and treatments for wooden wall panels and tile floors. Focused on customer satisfaction, Checkpoint Cleaning Service is happy to modify their comprehensive cleaning guidelines to match each client's specifications. With broad insurance protection and exacting security measures, Checkpoint aims to offer the safest and most reliable commercial cleaning among local janitorial companies. We constantly do on-site inspections and Checkpoint offers a 24-hour hotline for questions.
Office Buildings and Industrial Cleaning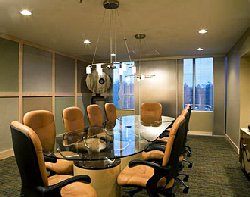 For the cleaning of office buildings in Tampa, Orlando, St. Petersburg, Clearwater, Dunedin, Largo and surrounding Central Florida areas, Checkpoint offers competitive rates and a low-risk three-month trial period contract. Guidelines for the cleaning of businesses include weekly dusting of horizontal surfaces such as copy machines, bookshelves and tables as well as detail dusting such as chair rails and legs, baseboards and picture frames. Checkpoint Cleaning Service strives to offer commercial cleaning with minimal disturbance so desk accessories and surfaces will be cleaned without moving papers or affecting ergonomic setups. In addition, weekly janitorial services from Checkpoint include cleaning and sanitation of telephones and water fountains, vacuuming of floors and upholstery, smudge removal, small spot cleaning and trash removal, among a variety of other detail cleaning services. Checkpoint provides the equipment and materials to perform all industrial janitorial services and will install supplies provided by clients such as toilet paper, hand soap, plastic bags and hand towels. We also are a janitorial supplies provider and can offer customers their supplies at a substantial savings over what they are currently paying. You can order everything you need online and we'll deliver it at no charge. Combining your janitorial service and supplies is a sure way to save money, GUARANTEED!
Beyond exceptional building maintenance and industrial janitorial services, Checkpoint strives for total customer satisfaction. With a commitment to communication, quick response times and responsibility, Checkpoint keeps a loyal customer base in the Central Florida area by taking appropriate steps to correct any problems or concerns a client may have. By maintaining a reputation of quality, convenience and accountability for over 14 years, Checkpoint remains high on the list of Florida janitorial service companies. Checkpoint Cleaning Service offers free estimates!
Licensed • Bonded • Insured • Workman's Comp
Compliance Depot Approved Vendor ID# 457172