For Sale 1967 Plymouth Satellite
• 2 Door • Hardtop • 2nd Owner • White W/Burgundy Interior • Very Good Condition
$19,900 obo (NO TRADES) - Call 727-723-2432 for more information or email me at jdurava@gmail.com
You can purchase this vehicle now by "< CLICKING HERE >"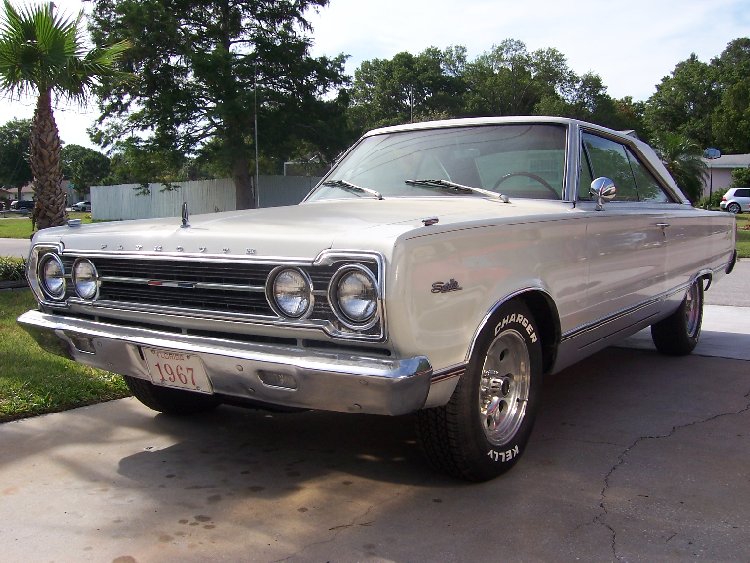 History: This Satellite was purchased new March 7th, 1967 by a gentleman named A. L. Wood who lived in Orlando, Florida. The car was always garaged kept, was always in Florida, so there is no rust damaged caused from the ice and salt. The car was professionally maintained and was a "Sunday" driver for it's entire life having just 107,241 original miles. Mr. Wood died and the car sat unused in their family garage for almost four years until his wife put the vehicle up for sale with an antique car dealer. The car was purchased by it's second owner John Devine on March 2nd, 1999 and was relocated to Clearwater, Florida where it has remained ever since.
John Devine purchased the car with the intention of making it a 60's muscle car and so shortly thereafter is when it's transformation began. This car has remained garage kept over the last ten years and has been driven less than two thousand miles since he purchased it. Less than a thousand of these miles have been accumulated since the car was restored. The new owner has taken excellent care of this vehicle and enjoyed more just having it and listing to it run than he did actually driving it. My name is Jason Durava and I am the one who performed the restoration project. In the next few paragraphs I will outline what has been done to date and how the car sits in its present condition.
Restoration 1st Phase: The first phase was to remove everything mechanical from the vehicle that was stock and store it so the car could be returned to it's "1967 classic condition" at any time. The cosmetics of the vehicle were kept the same so even though it would be a muscle car it would appear to be just a stock Satellite. The Satellite was a "B" body style type so the decision was made to keep the car a small block and not to make any modifications that would require welding or permanently altering the vehicle in any way.
The original 318 engine, rear end, air conditioner, suspension, shift linkages, drive shaft, brakes, master cylinder, alternator, radiator, hubcaps, exhaust, transmission, mounting hardware and brackets were all removed. The 318 engine was broken down, repainted and all new seals and gaskets were installed before it was placed in to hibernation. It was not rebuilt due to the fact of keeping it original and it ran strong before it was removed. All cylinders were above 120 on a compression check. Some of the parts like the727 transmission and the drive shaft were rebuilt to high performance standards and reused. The rest of the parts were placed into boxes and stored.
The interior of the car was in mint condition and all original when the car was purchased, so no modifications or restoration was need. The same goes for the exterior, it has the original paint and color with no rust. Some of the chrome is slightly pitted and the manufactures emblems are starting to show their age but nothing major. It was decided that nothing would be done in this regards at this time. The engine compartment is the only thing currently that could stand to be painted, everything else is 95%.
Restoration 2nd Phase: As stated in a previous paragraph the Satellite is a "B" body so without major modifications a big block was not an option. The 360 is the biggest engine in a small block we could use and it bolts right in place of the original 318, so that is what we opted for on this application. A still running 360 engine was pulled out of a 1972 Cordova and was chosen to be the engine we would use. After all we only wanted the block and the heads anyway. The motor was stripped down and sent out to "Dave Pletch Racing" where it was bored out .40 over, magna fluxed for any imperfections (cracks), decked, the heads were milled for a higher compression ratio (9.1) a quad angle valve job was performed and they were ported and polished. The premise for this is, the car will now have the equivalent of a chevy big block 400 in the body and the weight of a small block.
The motor was assembled using the following parts: Crane recreational cam, Crane hydraulic lifters, Crane push rods, Crane adjustable gold rockers, Crane valves, Crane Valve Springs & Retainers, Mopar Performance Cast Crankshaft, Mopar Performance Forged Pistons with Molly Plasma Rings,Mopar Performance Harmonic Balancer, Milodon High Performance Oil Pump, Milodon Windage Tray, Milodon 10qt Oil Pan, Crankshaft and Camshaft journals were studded, Mopar Performance valve covers, Elelbrock high rise intake manifold, Mopar Performance timing chain and gears, Holly 650 carb with electric choke, ceramic coated Hooker competition headers with 3" exhaust run back to the axle, seals and gaskets are Felpro High Performance, MSD distributor, MSD 6AL Box, Mopar Performance high volume water pump, Accel 8.8 ignition wires, cap & rotor and MSD Blaster II Coil.
A high capacity, Be Cool 6 core radiator was installed with fan shroud and direct drive fan to deal with the heat of the high performance engine. The heater core was also bypassed so the standard 8-10lb cooling pressure could be increased to 16lbs, lowering the boiling point even further. Also the original single v-belt accessory drive system was upgraded to a dual v-belt to eliminate the possibility of slip under high torque conditions. At the end of these upgrades the motor was taken back down to "Dave Pletch Racing" and dyno tested at 457 HP & 405 foot pounds of torque at 5500 RPM, I estimate that around 410 HP is hitting the rear wheels.
Restoration 3rd Phase: In this phase the transmission, drive shaft, axles and rear end were modified to match the high performance output of the engine. Since the Mopar 318, 340 and 360 engines are all basically the same block the bell housing and transmission would bolt back up to the 360 without any modifications (i.e. different bell housing, new input shaft for tranny or spline adapter). The transmission was rebuilt using a high performance B&M rebuild kit and then a shift kit was installed in the valve body to eliminate any shift delay. In this process, the clutch packs are replaced with new high performance packs that last longer and deal with high speed shifts better. The valve body was replaced with a newer version (1974), then some of the veins are rerouted using different gaskets when the valve body is reassembled. The result is a much quicker shift and the ability to manual shift without possible damage to the transmission. During this process, the detent springs in the valves are also changed out with stiffer springs so they snap shut faster. The stock spring on the accumulator was also replaced with a new, stiffer spring which really gives the car a quick shift yet still allows the car to shift automatically without that sudden jerk when the car is placed into drive. Last the stock torque converter was replaced with a new one that has a 2500 RPM Stall.
Next the drive shaft was sent out to "Dependable Drive shafts" to have new, high performance u-joints installed then it was high speed balanced for smoothness. The stock 273 differential chunk was replaced with a new 411 positraction chunk that has a sure grip for limited slip. The axles while they were out had new "Green Barron" bearings pressed on and new seals so everything was new going back together. At this point rather than install traction bars, the torsion bars were adjusted (tightened) and an adjustable snubber was placed on the pumpkin this forces all the weight of the vehicle on to the rear wheels when the car accelerates. The result is usually two car lengths when your foot comes off the brake!
Restoration 4th Phase: In this final phase of the restoration project the suspension and braking systems were updated. The original four wheel manual drum brakes and single master cylinder were nothing short of an accident waiting to happen. So a kit was purchased from Stainless Steel Brakes Corporation that would update most of the system. Again this was a kit that bolts up to all of the existing brackets on the spindle, so no invasive modifications were necessary. The front brakes were upgraded to 11" anti-lock disc with slotted rotors. The hoses connecting the calipers to the metal brake lines were update from rubber to stainless steel braided. This takes the movement out of the lines when the brakes are applied so all of the hydraulic force goes right to the caliper. The single bowl, manual master cylinder was replaced with a dual bowl master cylinder and a brake booster was installed, effectively converting the brakes to power. An adjustable proportioning valve was also installed between the front and rear brake lines so the amount of braking the front brakes do can be adjusted. This is currently set at 60% front and 40% rear.
The front shocks were replaced with Monroe Gas and the back shocks were replaced with adjustable air shocks so the rear can be adjusted slightly high than the front for performance. All the rubber bushings on the under carriage were replaced, like sway arm bushings, control arm bushings, etc. All the steering components were replaced also; the center link, inner and outer tie rods, idler arm and pitman arm. All of these parts were made by TRW or Moog and they were upgrade and high performance. The rims and tires were also replaced with 15" aluminum alloys. This made a huge difference in the stability of the vehicle and how the car handles corners at high speeds. Now the car wasn't just fast on the straight away's it can also hold it's own on winding roads.
Summary: Many other things have been done to the car that I have not mentioned or you would be reading this for hours. All the records and receipts for all the work that has been done come with the sale of the car. All the original parts and engine that were removed also come with the sale if the new owner wants them. The owner has also told me to throw in another 318 engine I built for this car that has 330 HP but it was decided that it wasn't enough so it was removed and stored with less than 100 miles on it. The car has tons of possibilities for a person that has time for it and time is the reason John is selling the car. He is retiring now and wants the garage space that was once for the car for a wood shop.
Pricing: The pricing for this vehicle was assessed by using www.collectorcarmarket.com you can view this report by clicking this link: http://www.collectorcarmarket.com/menus/ccmprcs/67plsate.htm
Photo Gallery
| | |
| --- | --- |
| Center View of Trunk | View of Back Seat From Drivers Side Door |
| Center View of Dashboard Taken From The Back Seat | Center View of Engine Compartment With Air Cleaner |
| View of Engine Compartment Taken From Drivers Side Fender | View of Engine Compartment Taken From Passenger Side Fender |
| Center View of Front End Taken At Ground Level | Center Top View of Front End |
| Center View of Back End Taken At Ground Level | View of Steering Wheel & Instrumentation |
| View of Speedometer & Odometer | Close-Up View of Steering Wheel & Instrumentation |
| Gauges - Transmission Temp - Water Temp - Oil Pressure | View of Tachometer With Shift Light |
| Passenger Side View Of Car | Passenger Side View of Interior |
| View of Back Seat Taken From Outside Passenger Door | View of Passenger Front 15" Aluminum Allow Rim |
| View The Under Carriage Taken From The Rear of The Vehicle | View of Under Carriage Taken From The Front of The Vehicle |
| Passenger Disc Brake & New Suspension Components | Drivers Disc Brake & New Suspension Components |
| View of Water Pump - Direct Drive Fan - Fan Shroud - Alternator | View of New Dual Bowl Master Cylinder With Brake Booster |
| Close-Up View of Engine Taken From Drivers Side | Close-Up View of Engine Taken From Passenger Side |
| View of Be Cool Radiator & Moroso High Pressure Cap | MSD 6A Ignition Box Mounted On Drivers Side Fender |
| Close-Up View of The Top of The Engine & Holly 650 Carb | Center View of Engine Compartment Without Air Cleaner |
| View of Car from Drivers Rear Quarter Panel | View of Car From The Passenger Rear of Vehicle |
| View of 6qt B&M Aluminum Deep Transmission Pan W/Drain | View of Drivers Interior Door Panel |
| Under Dashboard View On Drivers Side of Vehicle | View of Headliner - Courtesy Light - Sun Visors |
| Drivers Seat | Passenger Side Interior Door Panel |
| View of Glove Compartment - Dashboard - Gauge Cluster | View of Original Maintenance Card Inside Glove Compartment |
| Original AM Radio - Plays Out of Two Speakers | Certicard With Original Owners Name & Address |
| View of Locking Center Console Closed | View of Center Console Open |
| Under Dashboard View Taken Outside Passenger Side Door | View of Dashboard & Instrument Cluster |
| Satellite Emblem On Passenger Side | Close-Up View of Front Clip |
| Satellite Orignal A/C Compressor and Air Cleaner | Satellite Orignal Radiator |
| Satellite Orignal Air Cleaner | Satellite Orignal Accessory Pullies and Harmonic Balancer |
| Satellite Parts, Fan Spacer, Voltage Regulator, Thermostat | Satellite Orignal A/C Compressor Mounting Brackets, Pullies, etc. |
| Satellite Orignal Fuel Pump, Radiator Hose, Mounting Brackets, Etc | Cordova 318 Distributer With Control |
| 360 Orignal Sleigh and Rockers | New Unused Electric Fan |
| Satellite With Suitecase That Came From Orignal Owner | Satellite Orignal Hubcaps |
| Orignal A/C Condenser | Another New, Unused Electric Fan |
| Another View Of Suitcase | View Of All The Extra Parts Put Together |
| Orignal High Side A/C Line | Orignal Low Side A/C Line |
| Orignal Torque Converter | Orignal 293 Chunk |
| Orignal 318 Engine - Enigine Is All Orignal And Runs Perfect | 318 From A 1972 Cordova Bored .30 Over - Completely Rebuilt |
| | |
| | |
| | |
| | |
| | |
| | |
You can purchase this vehicle now by "< CLICKING HERE >"