Checkpoint's Dual Cleaning Process... A Revolutionary Clean you can See & Feel!

Cleaning solutions left in your carpet act as a magnet for dirt and Allergens. That's why Checkpoint Cleaning Services exclusive dual cleaning system includes an essential extra step. A uniquely formulated pH-balancing fiber rinse that removes carpet cleaning solution residue right along with embedded dirt. So all that's left behind is cleaner, healthier, softer carpet.

Explanation:

When our professionally trained carpet cleaning technicians enter your home or business, they start with a pre-inspection to identify problem areas. Then Checkpoint's dual cleaning process goes into action. A heated enzyme based cleaning solution is applied deep into the carpet fibers to loosen imbedded dirt, body oils and allergens. Then, to remove the contaminates, it's followed by a high-powered - high-heat extraction process that is pH balanced, leaving your carpet absolutely clean, guaranteed!

Carpet Sanitizers, Deodorizers & Protectors

We recommend an, optional, application of DuPont Teflon or Scotchgard after every cleaning to protect your investment. Reapplying the Teflon or Scotchgard coat to your carpet restores protective properties preventing spills and other accidents from becoming permanent stains. Dirt will be easier for you to vacuum out, which minimizes wear and traffic patterns. It also locks pollen, dander and other allergens out of the carpet fiber. We're so confident in our carpet protection that we give you a one year warranty, ask for details.


| | |
| --- | --- |
| Another optional service we offer is a wide range of carpet sanitizers & deodorizers with many scents to choose from. The sanitizer is applied before the extraction process begins to kill flea eggs, dust mites, viruses, germs and bacteria. This extra step coupled with our 215 degree extraction process ensures a 99.9% sanitary environment. We'll leave your home or business smelling good from the floor up! | |

Post Inspection

After cleaning your carpet, we'll review the job with you to make sure everything was done to your satisfaction. If not, we'll fix it right then and there! We want you to be 100% satisfied before we leave!

Why Choose Checkpoint Cleaning Service?

Our dual cleaning system is the carpet cleaning process recommended by America's largest carpet manufacturers. But that's not the only reason to choose Checkpoint Cleaning Service:


| | |
| --- | --- |
| • | We use specialized, name brand carpet deodorizers and protectors. |
| • | Your carpet is groomed, allowing it to dry faster. Then, we distribute the carpet protector and deodorizer evenly. |
| • | We give free estimates on all of our services. |
| • | There are no hidden charges EVER!. |
| • | Checkpoint Cleaning Service has an unconditional guarantee of satisfaction. |
| • | We will schedule appointments at your convenience: Saturdays, Sundays, evenings and Holidays. |
| • | We pay special attention to trouble spots, stains and heavy traffic areas. |
| • | We use the latest, state-of-the-art, truck-mounted equipment which provides powerful extraction, quicker drying times and better accessibility for multi-story buildings. |
| • | Our courteous, professional technicians are trained on the latest carpet cleaning equipment and techniques to make sure you're 100% satisfied. |
| • | We provide 24 hour flood damage repair 7 days a week. |

The Importance of Regular, Professional Carpet Cleaning

Many people make the mistake of assuming their carpets are clean just because they look that way. What they may not know is that, over time, even the most immaculate looking carpets collect germs, allergens, dust and soil below the surface. To increase the useful life of your carpets, most carpet manufacturers recommend you have them cleaned every 12-18 months. After our cleaning process, our customers are amazed at the improvement in their carpet.

Carpet Warranty Information

Most carpet manufacturers require regular, professional carpet cleaning to validate your carpet's warranty. Click the links below to find out more about your carpet manufacturer's professional cleaning warranty requirements.

• Mohawk - See carpet care & guidlines on page 15 (PDF)
• Shaw
• Beaulieu
• Stainmaster Carpet

Protection

The Importance of DuPont Teflon & Scotchgard

Carpet manufacturers apply protectors at the factory to help your carpet stay cleaner, longer and repel stains. However, with traffic, vacuuming, and spot cleaning, this protection wears off. Having the protection reapplied will make it easier to vacuum out dirt, pet hair and other debris. In addition, apply protectors will minimize the formation of traffic patterns and add years of life to the carpet. This also gives you extra time to clean up spills before they turn into permanent stains.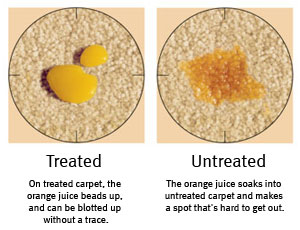 Sanitizers & Deodorizers

Leave Your Home or Office with a Fresh, Clean Fragrance

When your carpet has a bad odor, your whole house does too. We have a wide variety of sanitizers and deodorizers that are enzyme based to tackle even the toughest odors. From urine, feces, vomit, sour milk, mold, mildew and more, these powerful enzymes actually digest the organic matter that's causing the odor, thus leaving your carpet and the environment smelling clean again.